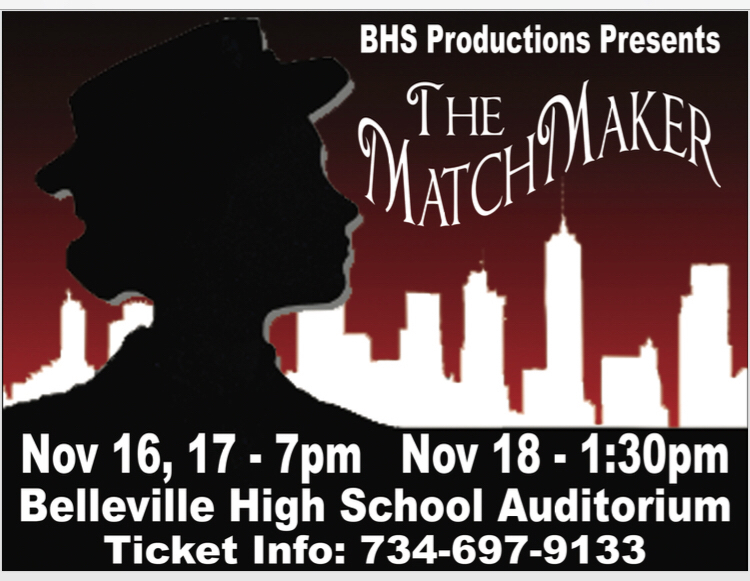 Fall Play - The Matchmaker
Stefanie Halliday
Tuesday, November 07, 2017
Belleville High School theater students are in the final stages of rehearsing this year's fall play, The Matchmaker, by Thornton Wilder.
The Matchmaker, the inspiration for Hello, Dolly! is an uproarious romp that reminds us to embrace the unexpected in our lives. Experience the comic fireworks of Thornton Wilder's 1955 American classic, praised as "one of the sweetest and smartest romantic farces ever written" (The Wall Street Journal). New York, 1880s.
"This cast has been working daily since mid-September and has put together a really exceptional interpretation of Wilder's farce," said Director Mike Gearns. "Also, we've taken a few liberties with the script and moved the setting out of the 1890s and into the 1940s to give it a different style and sound," said Gearns. "It should be quite fun for all."
The Matchmaker will open at the Belleville High School Auditorium Thursday, November 16, 7 p.m., with a middle performance, Friday, November 17, 7 p.m., and close with a matinee performance, Saturday, November 18, 1:30 p.m. Tickets can be purchased at the Belleville High School Auditorium Box Office beginning one hour before show time.
Tickets are $8 Regular/Adults, and $6 for Seniors/Students. For more information, call 734-697-9133.