The ECA & ECA Academy enrollment for the 2021-2022 school year is now open! Online applications can be submitted via their website,
www.earlycollegealliance.info
. Online applications should be submitted by February 12 for the initial enrollment lottery. The ECA & ECA Academy will still accept applications after February 12, and students will be accepted into the program based on open enrollment slots per district. Additionally, they have several Fall 2021 Virtual Information Sessions scheduled - registration for these Zoom meetings can be found on ECA's website.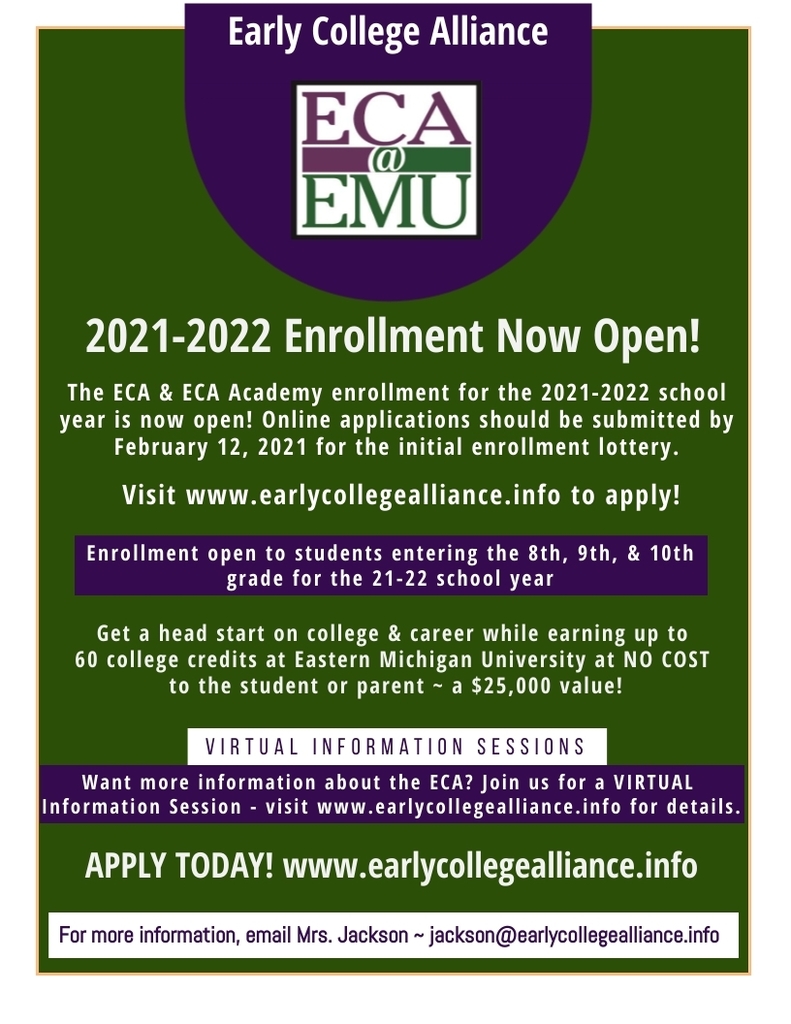 BHS in-person learning is continuing on Monday and Tuesday. The three week pause to high school in-person learning begins on Wednesday. It is important to attend school so we will be prepared for three weeks of remote learning.

With Governor Whitmer's announcement this evening, all school sports activities (practices and contests) are suspended effective immediately through at least Dec. 8 or until these new orders are amended.

Congratulations to Christian Dhue-Reid for breaking the Michigan High School Career Passing Touchdowns Record in last nights 34-0 District Semifinal win over Northville. The Tigers now move on to play Canton in the District Championship. Keep adding to that record and lets go get another District Championship! Good Luck!

For all of those interested in live streaming BHS Sporting events, we are now part of the NFHS Network. Games that take place at the High School Stadium and Main Gymnasium will now be live streamed through this network. The link to subscribe to begin watching events is:
https://www.nfhsnetwork.com/schools/belleville-high-school-belleville-mi
The first game scheduled is Varsity Playoff Football vs Northville this Friday, Nov. 6 at 7pm. Thank you!

Congratulations to the Varsity football team for earning a 3rd straight KLAA East Division Championship. Good luck against Plymouth in the opening round of District playoffs!

Congratulations to the Varsity Volleyball team for their KLAA East Division Championship!

Congratulations to Brady Beckley for qualifying for the MHSAA Regional Cross Country meet. He will run at Erie Metropark on October 31. Good Luck!


Miss our Senior parent meeting? The slide presentation from the event can be found here:
https://bit.ly/2GSsQ4I

JERMAIN CROWELL OF BELLEVILLE HIGH SCHOOL NAMED THE DETROIT LIONS HIGH SCHOOL FOOTBALL COACH OF THE WEEK FOR WEEK #1 Detroit, MI—The Detroit Lions have named Jermain Crowell of Belleville High School the week one recipient of the 2020 High School Football Coach of the Week Program. Crowell's Belleville Tigers kicked off their 2020 season with a 29-26 victory over Livonia Stevenson. Currently, Belleville is ranked #1 in Division 1 and #1 in the entire state of Michigan. Crowell is in his 22nd season coaching high school football. He was an assistant coach for 16 years, including 9 years at Detroit Cass Tech and is currently in his 6th season as head coach at Belleville, having led the Tigers to the Division 1 state semifinals the last two seasons. His career record is 50-8 (86.2%). On Friday, September 25, the Tigers host the Dearborn Fordson Tractors (0-1) in a Kensington Lakes Activities Association East Division battle.

Congratulations to the Varsity Volleyball team for winning their season opener over Livonia Stevenson this evening! Nice job ladies!

2020-2021 KLAA Spectator Policy under Executive Order 1. Each Participant (Athlete) will be allowed two spectators for each indoor and outdoor event as venue allows. 2. Spectators must be 18 years or older or accompanied by an adult as one of the two spectators per participant (Athlete). 3. Spectator must show ID and identify participant (Athlete) they represent to entry venue. 4. Face masks must be worn and social distancing must be followed. 5. In the occurrence that more than one event is taking place admission is for only the contest participant (Athlete) is playing. 6. No re-entry once you exit the venue. 7. Student sections will not be allowed. 8. Concession will not be available at all indoor and outdoor events. 9. Due to MHSAA order Pom, Dance, Marching band and other related groups will not be allowed to participate at football games. Sideline Cheer is allowed as a participant. 10. Due to size of venue and teams competing spectator size for swimming & diving will be determined by host school. 11. All MHSAA and State executive orders and protocols will be followed including face coverings and social distancing with people not from same household.

Congratulations to Damon Payne for committing to Alabama football and Jamari Buddin to Penn State football!