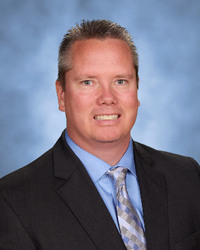 MR. JOHN LEROY, PRINCIPAL
Phone: 734-697-9171
Email: jleroy@vanburenschools.net
My name is John Leroy, and I'm the Principal of McBride Middle School. Previously, I was an Assistant Principal at Belleville High School, as well as Athletic Director of Melvindale Public Schools.
I believe in Van Buren Public Schools, in the hard work and dedication of the staff, the passion and dedication of it's students, and the enthusiasm and trust that is given us by the community each day. I walk into the building each day knowing that the relationships we build with students are the key to their daily success.
I know that the rigor that is present in each classroom will pay dividends in each of the students' lives for years to come.
If you ever have concerns, please feel free to contact me personally. Have a great day!