Kindergarden Round Up 2023 is coming up! Save the date on TUESDAY, APRIL 18TH 6:00 PM at each of our elementary schools. Come on it to check out the buildings, meet with the teachers, and find out everything you'll need to know for a great start on the fall. Click here to learn more about pre-enrollment for Kindergarten:
https://www.vanburenschools.net/page/how-to-enroll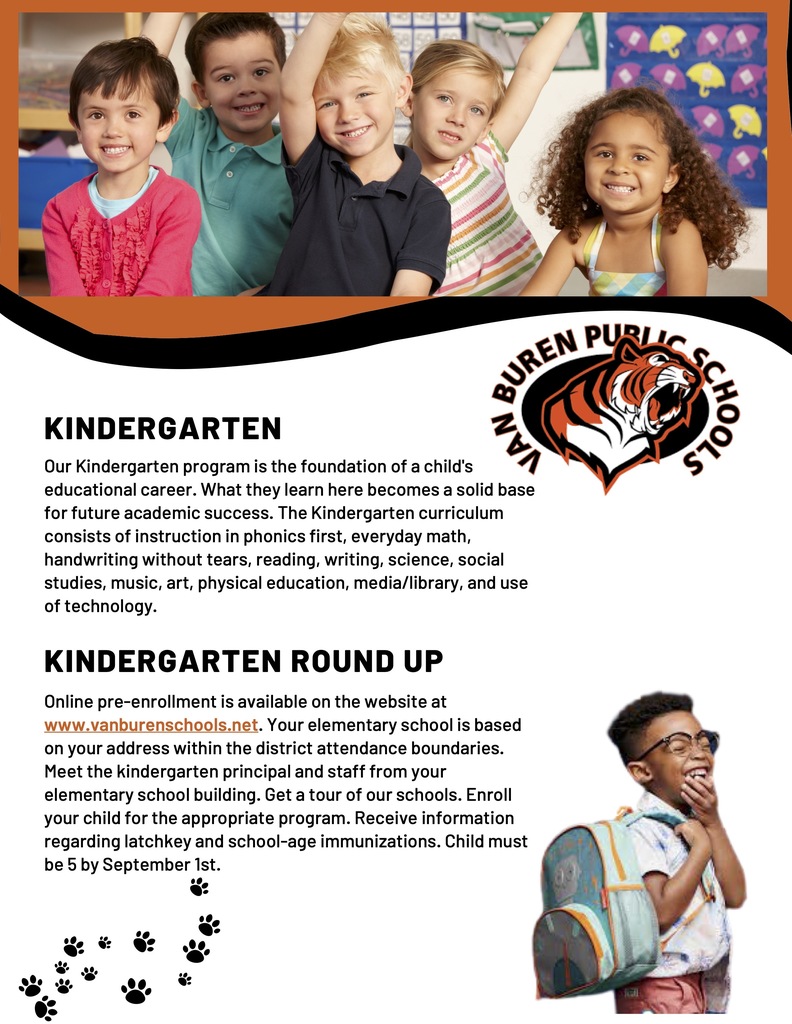 Savage has two job openings: 1. Kitchen Help, hours are 8:30 a.m. - 2 p.m. Mon - Fri. Contact food service at 734-697-0011 2. Lunch help - this is a position to help students in the lunchroom, open items and help clean between lunches. Hours are 11:15 a.m. - 2 p.m\ Mon - Fri. If interested, please call the Savage office at 734-699-5050.

This is just a reminder that today is an early release day and dismissal is at 2:04 p.m. Have a great day.

Good Evening Savage Families, I hope this finds all of you safe and well after the recent storms. I am hoping that we have school tomorrow and want everyone who planned on coming to the Paint Night this evening to know that we will reschedule that night and get the information out to you as soon as possible. MARCH 1ST will be an early release day with dismissal at 2:04 p.m. This Saturday will be our last 4th grade boys and girls basketball games and we will be at McBride Middle School beginning at 9 a.m. Be safe and hope to see all of you tomorrow.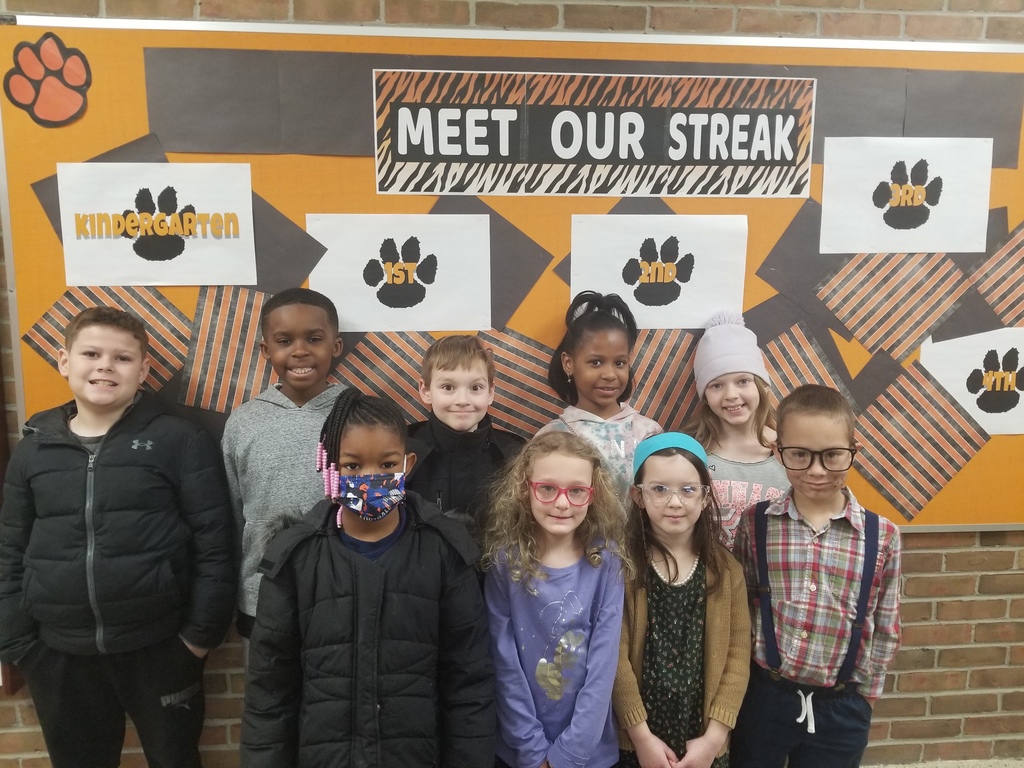 Our Super Savage Tigers of the Week!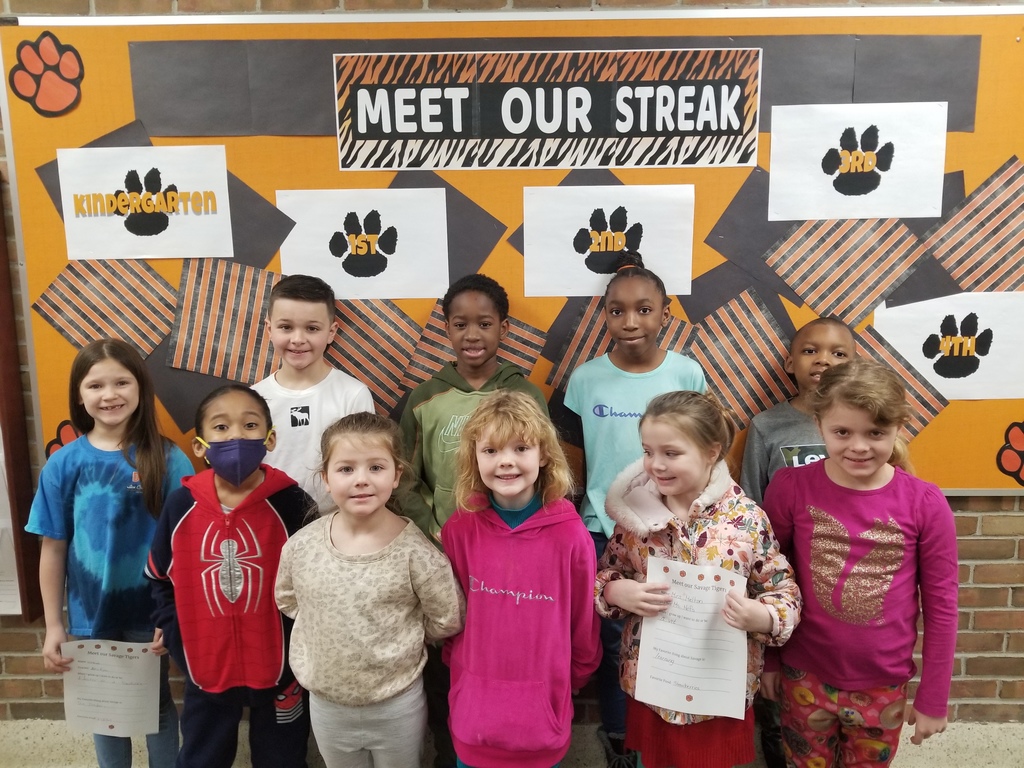 Dear Savage Families, It was wonderful to see everyone this week at Bingo and Paint Night this week and I hope to see some of you at the boys and girls basketball games at McBride tomorrow morning at 9 a.m. This coming Friday, February 10, 2023 our PTO is putting on a Love Dance. We are still accepting rsvp's for the event until Tuesday, so if you are interested, please let us know. King Pancake will also be here come and have dinner and a great time with us from 5:30 - 8 p.m. I have a parent who is interested in starting a Girls on the Run program but is looking for someone who is willing to help be a coach. So if you are interested, please contact the office as soon as possible so we can get things going. We have kicked off Black History Month with information about influential people being shared daily and presentations taking place during our Town Hall meetings on Fridays. If your family has anything that they would like to share about Black History Month, please let us know, we would be excited to have some guest speakers at our Town Hall meeting. Have a wonderful weekend.

PAINT NIGHT IS CANCELLED FOR TONIGHT! Due to school being cancelled today, our Paint Night will be cancelled. We will let everyone know when we will reschedule it. Thank you

REGISTER NOW for Girls & Boys NFL FLAG Football Spring 2023 Season Games played in Ypsilanti Twp on Sunday afternoons. Pre K through 12th Grade. Season runs April 16 - June 4. Go to greatlakesflagfootball.com for information!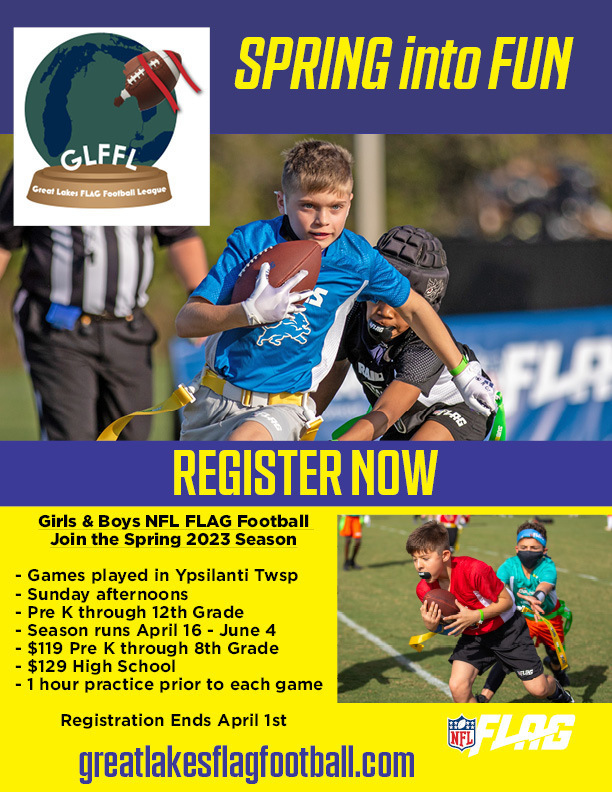 Dear Savage Families, I would like to share some exciting news with all of you; our school district had added an additional School Resource Officer. What does this mean? Officer Ryan Bidwell from Van Buren Police Department will be visible at all of the schools in the district. He will stop in to be a positive role model and to make sure our students are not afraid or think that something is wrong when an officer visits the school; that he is there to help. He may be seen in the lunchroom, in the hallways or even in classrooms. Please feel free to introduce yourself if you see him around Savage. Also, I am including a photo of our students of the week. Have a wonderful weekend.

Happy New Year Savage Families! As we begin 2023 I wanted to send some important dates and information that you need to be aware of: 1. Students will begin iReady testing (formerly NWEA) upon returning to school, so it is important that they arrive to school on time and try to be rested and ready to go. The test window is from January 9, 2023 through January 27, 2023. This testing will help us determine the growth that students have made and what areas we still need to support and work on. 2. Monday, January 16, 2023 there will be NO SCHOOL for Martin Luther King Jr. day. 3. Just a reminder that if your child is absent for an appointment, please be sure to ask for a school note and contact the office. 4. Please help me welcome Mrs. Kelly Doty as our part time administrative assistant; she will be taking Mrs. Lenore's place and she will step into Mrs. Theresa's role since she has retired. I am looking forward to being back at school and seeing everyone so here's to a happy and healthy 2023.

Good Evening, The PTO meeting is canceled for tomorrow (Tuesday, December 20, 2022). Please like the Savage PTO Facebook page for what we would have been discussing. However, please come out on Thursday, December 22. 2022 for our Holiday Shop from 5:00 p.m. - 7:30 p.m. This is free to all families and a great way to support our local vendors and get some last minute shopping done.

Good Evening Savage Families, I have some happy and sad news to announce, Ms. Theresa Johnson, our full time Administrative Assistant will be retiring after twenty plus years of service to our district. Her last week will be next week and we would love to wish her well in her retirement, she will be missed. Ms. Lenore Sykes, our part time Administrative Assistant will be taking over for Ms. Theresa and Ms. Kelly Doty will become our new part-time assistant. We are so grateful to Ms. Theresa for all that she has done for our students and families over the years. Best of luck and much love. ATTENDANCE: I just wanted to clarify a couple of things for everyone; if your child is absent for any reason, please call the office or attendance line. 734-697-3678. If your child is out for any type of doctors appointment, please ask the doctors office for a school note and it will be excused. Also, just a reminder that if your child leaves school with a fever or has a fever, your child needs to be fever free and no medication for 24 hours before returning to school. Thank you so much. I would like to send out a special thank you to our PTO for all of the extra special activities that they have planned for our students and families. Thank you for caring so much and taking time out of your busy schedule. Have a wonderful evening.

Dear Savage Families, I have several reminders that you may want to be aware of, so be sure to mark your calendars: 1. Tomorrow will be our Turkey Trot so be sure your child dresses for outside. 2. Tomorrow is our Hungry Howie Night 3. We are doing a canned food drive so we are able to open our Savage Food Pantry so that we can continue the Friday Fill Up Program. If this would help your family over the weekend, please contact the office or let your teacher know. 4. Parent Information Night - November 29, 2022 5:30 p.m. - 7:30 p.m. 5. Our Penny's for Peyton will continue through December 15, 2022. Wishing all of you a wonderful Thanksgiving!

The BHS Class of 2023 will have a fundraiser at Qdoba on Belleville Rd. on Tuesday, Nov. 22, 2022 from 4:00pm - 8:00pm. See the flyer for more information and how to order. The Class of 2023 thanks you.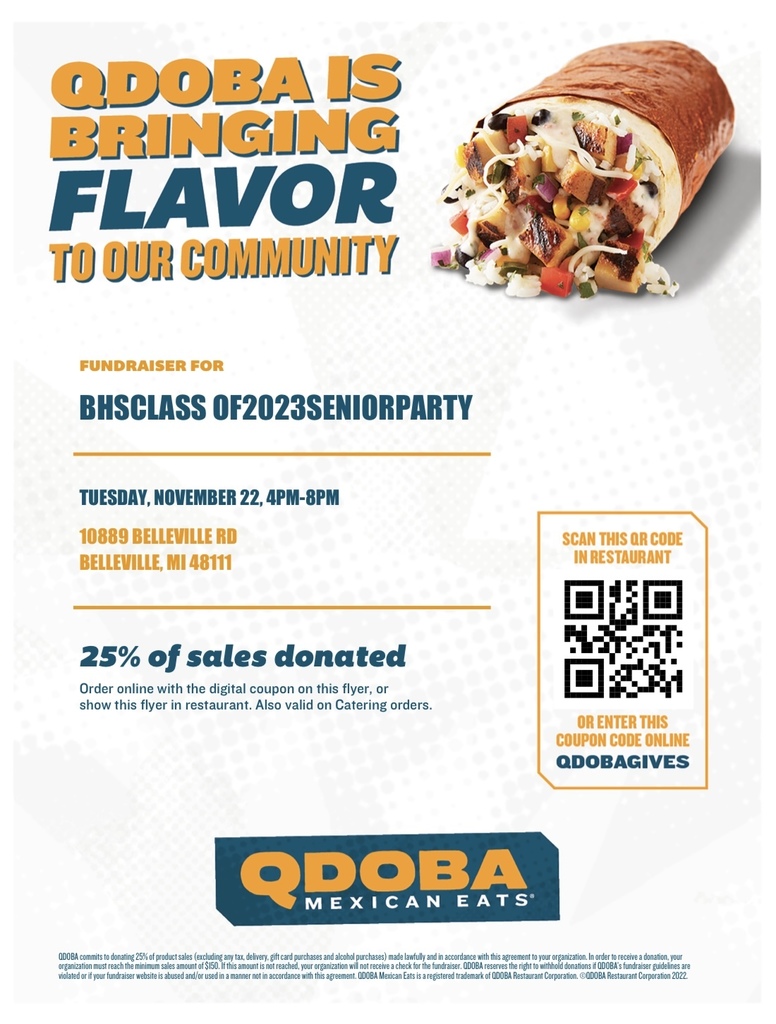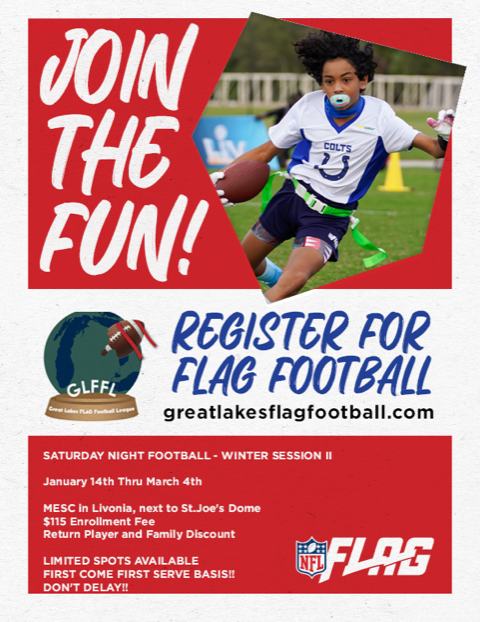 Congratulations to our Super Savage Tigers on being Student's of the Week! REMINDER: Tuesday, November 8, 2022 there will be NO SCHOOL since it is Election Day; don't forget to vote. Also, next week we will be celebrating Veteran's Day! We will be helping the Veteran's by distributing poppies during arrival and dismissal on Friday. Thank you to all those who have served our country.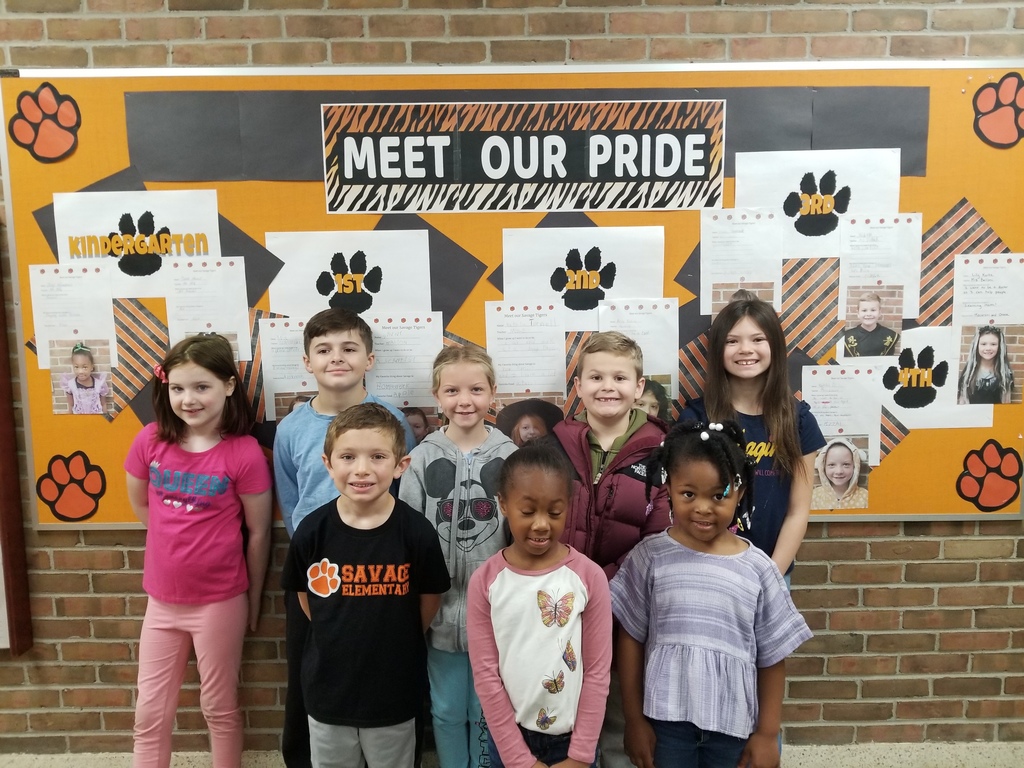 Good evening, The Fall 2022 School Parent-Teacher Conferences for our K-4 buildings will be held Wednesday, November 16 (In-Person) from 5:00 to 8:00 p.m. and Thursday, November 17 (Virtually) from 1:30 - 4:30 p.m. and 5:00 - 8:00 p.m. You can sign up for a conference slot, virtual or in-person, at vbps.meettheteacher.com. Once you sign in, you will see each of the teachers for each of your students, as well as the ability to manually schedule conference times for your student. On the day of the conference, you need only sign back into that same website and begin the conferences that will be ready for you. If you need assistance, please feel free to reach out to Ms. Staci Russel at
srussell@vanburenschools.net
if you need additional assistance.

Good Evening Savage Families, This is just a reminder that we will be hosting our Trunk or Treat tomorrow night from 5:30 p.m. - 8:30 p.m. It will be free for families to go through the Trunk or Treat but we will have food trucks available if families would like something for dinner. I hope to see you there. Just a few things to mark on your calendar that are coming up soon: Please remember that Monday, October 31st is a half day of school with dismissal at 12:30 p.m. Also, November 2nd will be an early release day, so the students will get out two hours sooner at 2:04 p.m. And, there will be NO SCHOOL on November 8th since it is election day, so do not forget to vote. Have a wonderful evening.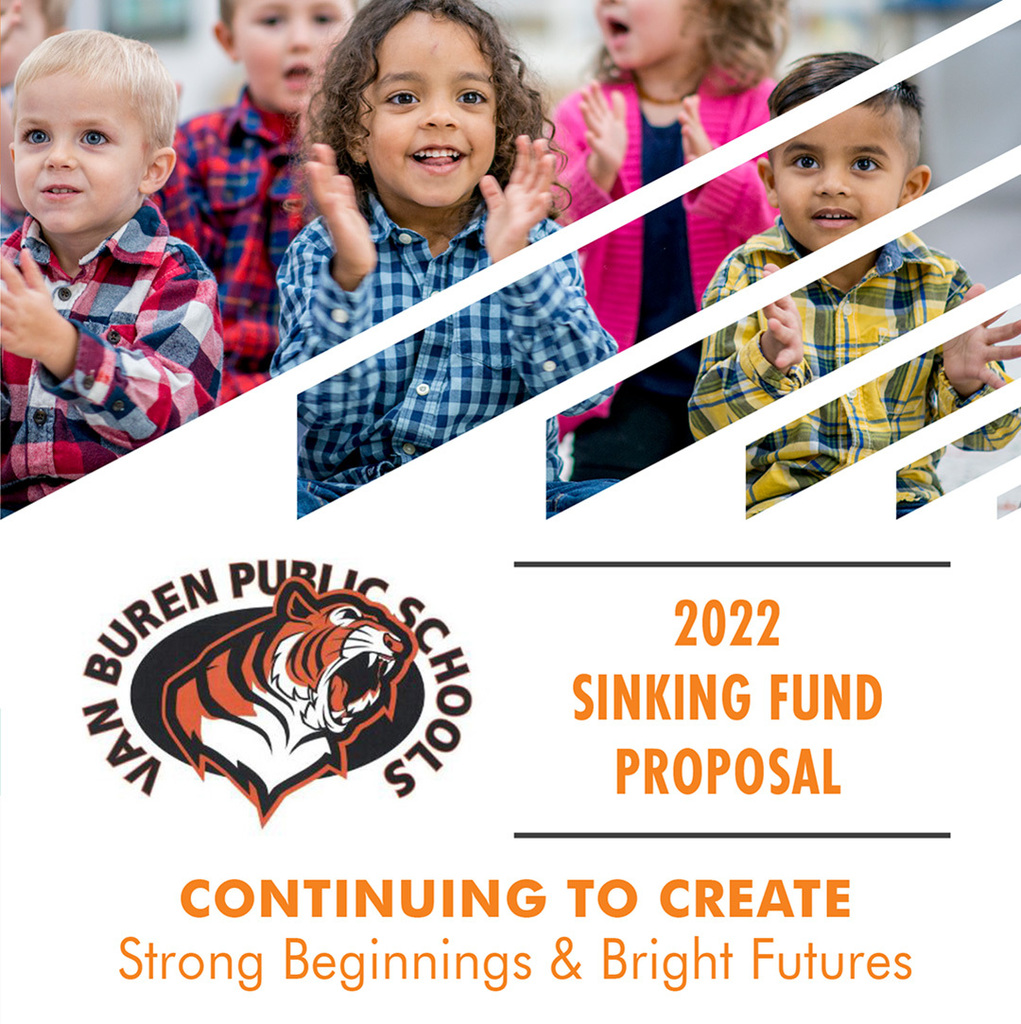 Congratulations to our Students of the Week!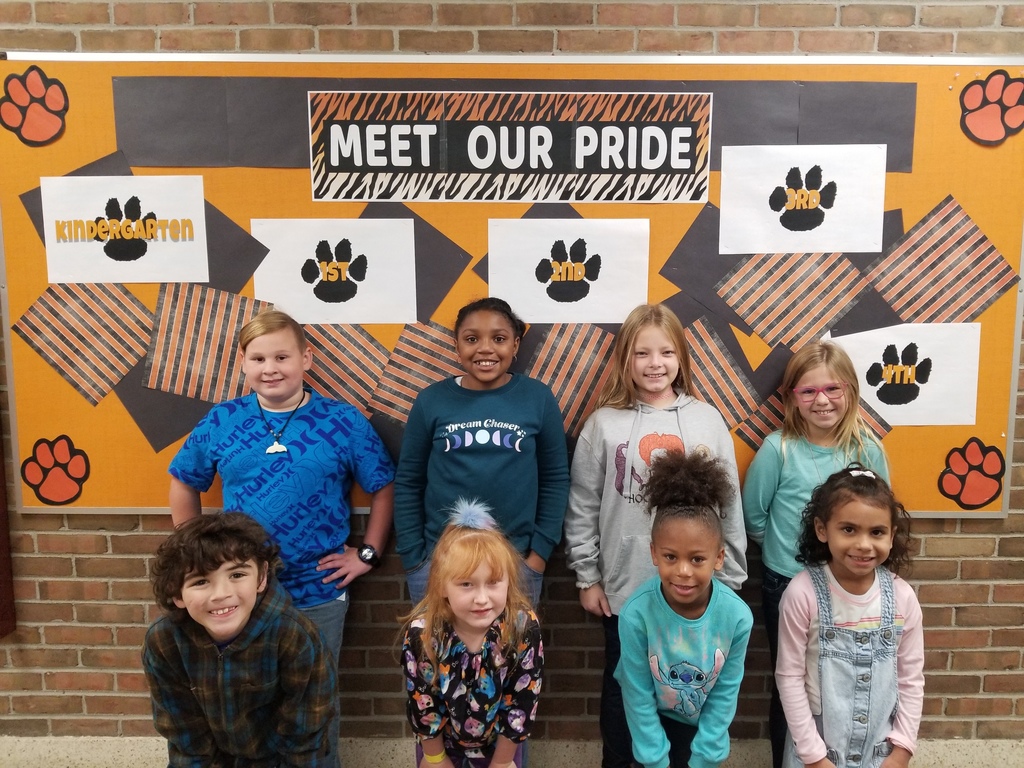 Dear Savage Families, Just some important reminders: 1. PTO Meeting is tomorrow, October 18, 2022 at 6 p.m. 2. NO SCHOOL ON FRIDAY 3. Please make sure your child is dressing for the weather or packing an extra sweatshirt or jacket since we had to give out some coats today. 4. The PTO will be having a Trunk or Treat on Friday, October 28, 2022. If you would like to enter your car, please sign up with the PTO. Set up will be at 5 p.m. and it will begin at 5:30 p.m. Otherwise, I hope I see you at our first Trunk or Treat. If you would like to donate any candy, please feel free to drop it off at school. Have a great evening.