Calling 7th and 8th Graders and their Parents/Caregivers! Saturday, January 21st from 9:00am - 12:00pm there is a $15 dollar (some free slots available) Zoom conference hosted by the University of Michigan with a guest speaker from CommonSense Media. This conference will help parents and students develop and grow healthy online behaviors and relationships with technology. To join or learn more please visit
https://bit.ly/dws-2023
.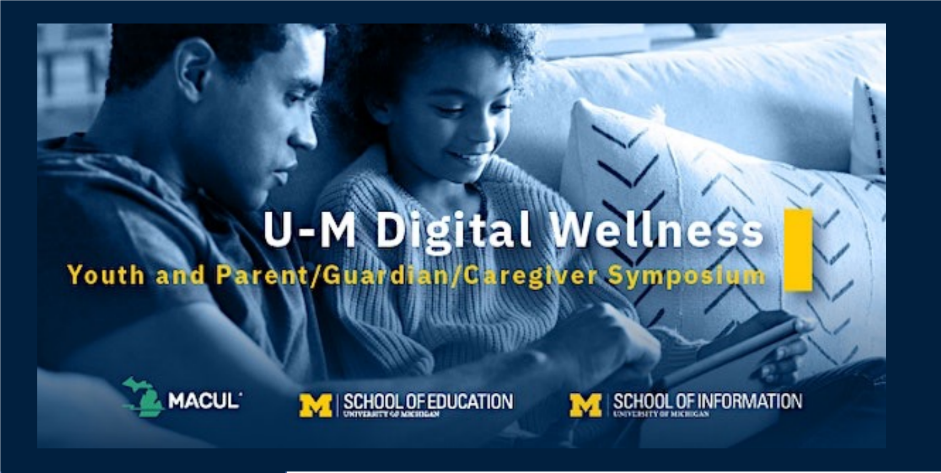 Here are the top three contestants in the 2023 McBride GeoBee. From left to right: GeoBee sponsor Mr. Hoepfner, 1st place Braeden Kosakowski, 2nd place Logan Nitz, and 3rd place Jaylen Lee. Congratulations to those who participated!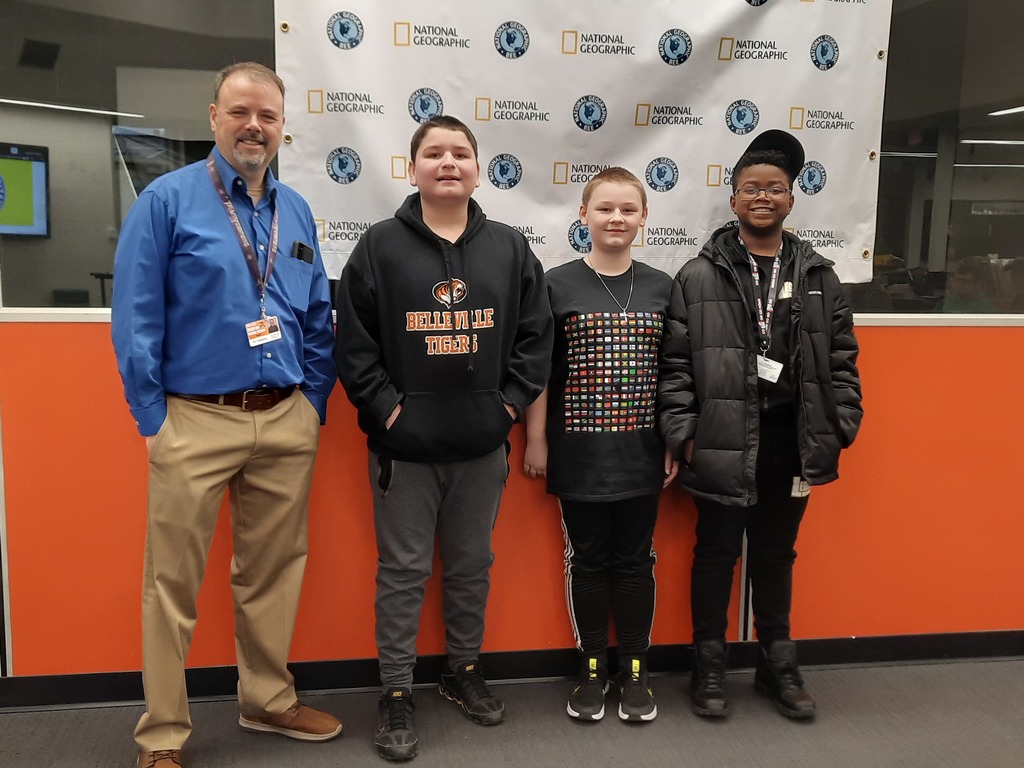 The 2023 Mcbride GeoBee has begun!
Attention 8th grade families! If your student is attending this year's Washington D.C. Trip with McBride, there will be a MANDATORY meeting for students and families next Tuesday, January 17th, at 6pm in the McBride cafeteria. All trip participants MUST attend with an adult.

It's almost showtime! Auditions for McBride Middle School's play will take place on Tuesday after school until 5:00. If you haven't yet picked up a packet, be sure and grab one in the office tomorrow. This show is sure to be loads of fun and we would love for you to be a part of it! Questions? Talk to Ms. Delfuoco or Ms. Chrisner.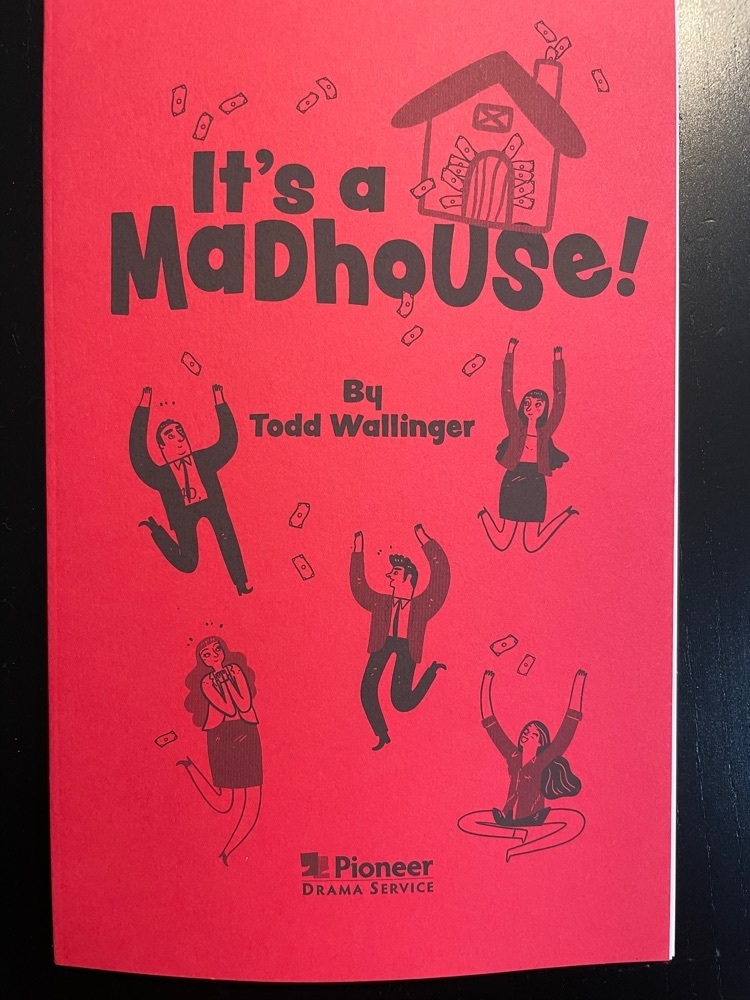 Congratulations to those listed below have qualified for our school finals competition where you will compete with the top geographers in McBride Middle School. This bee will take place on Thursday January 12th in the Media Center during 1st – 3rd hr (8:30 – 11:10). Parents are allowed to attend, please check in with the office first. If your child cannot attend please contact me at
rhoepfner@vanburenschools.net
as soon as possible!!

Today it came to our attention that a student overheard another threatening to have a family member come and "take care of" a student that they were angry with. We already had the student in the front office and they were being questioned for an incident that happened earlier. We do not believe there was a credible threat, but will be taking appropriate action with the student for what was said.

Congratulations to the McBride TerrorBytes team 14670 for winning the Innovate Award sponsored by Raytheon Technologies at the SE Detroit League Qualifier this past Saturday. Winning this award earned us a spot in the State Championships this Friday and Saturday. Way to go MMS TerrorBytes!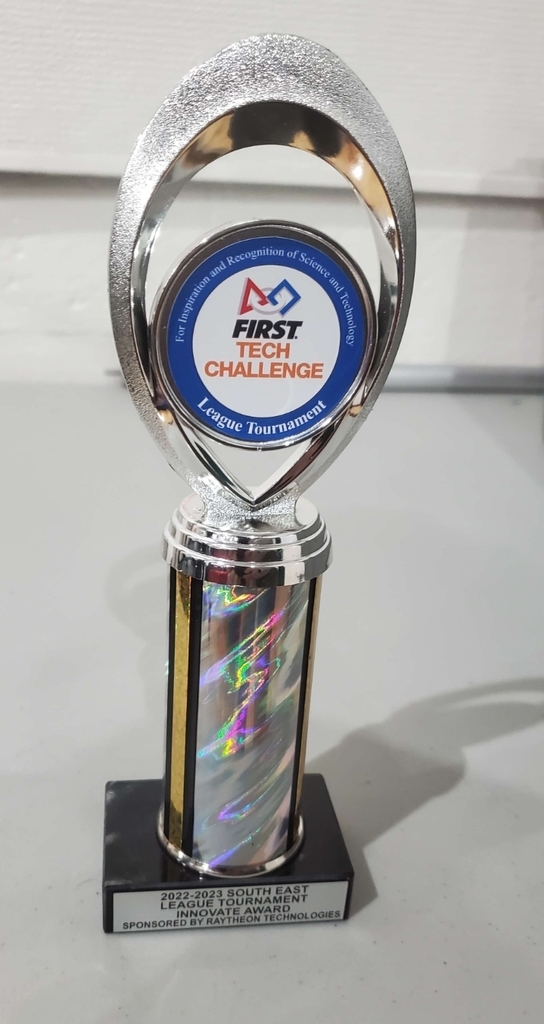 This morning we became aware of a rumor that a student had threatened to harm another student and "shoot up the school". We contacted the Van Buren Police Department and met with them before school started. They had begun an investigation the night before and we worked with them to determine credibility before school started. Our investigation continues, but we wanted to make it clear to families that the student was not in school today and will not be until the investigation is complete. We want to thank the parents that informed us this morning. If you or your child hear about threats to a student or to the school, please reach out to us immediately or use OK2Say. This program is through the Department of Education and the Michigan State Police and you will remain anonymous. Staff will receive a phone call after the report is made and we will be able to investigate immediately. Anyone can report tips confidentially on criminal activities or potential harm directed at students, school employees, or schools. Call: 8-555-OK2SAY (855-565-2729) Text: 652729 (OK2SAY) Email:
OK2SAY@mi.gov
Thank you, Fred Abel David Turner McBride Middle School

December is National Stress-Free Holidays Month! The holidays can be stressful, so take time to care for yourself. Here are some easy tips to make your holiday season bright and stress-free: Plan ahead. Talk about your feelings. Take time for self-care. If you need help finding a mental health provider, you can always call #CareSolace 24/7/365 at 888-515-0595.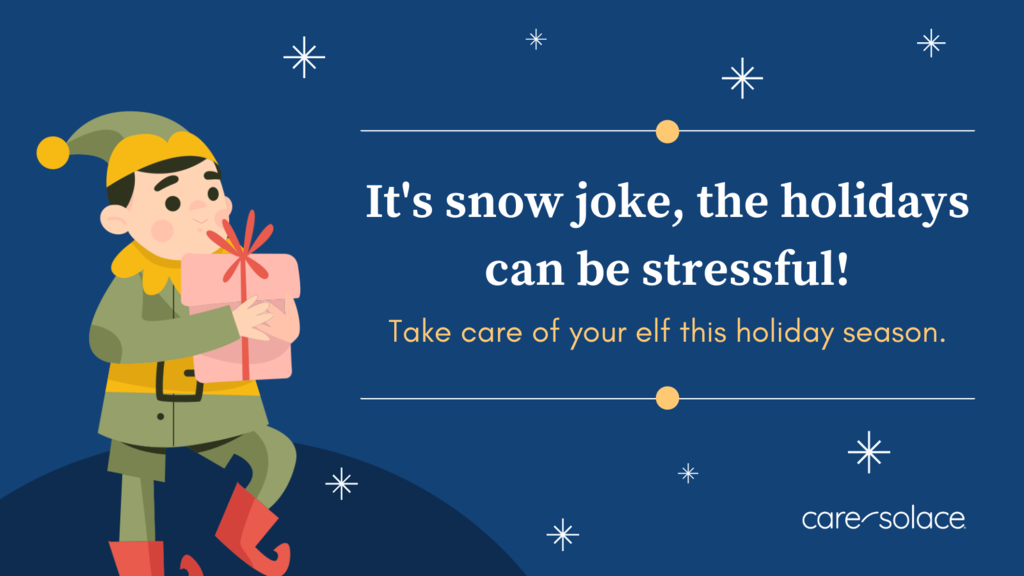 Parents and Guardians of McBride Students: McBride PTO needs some information from you! Please take a moment to take a quick survey to help them help your students!
https://forms.gle/735eG5Qu1hq8bcUU9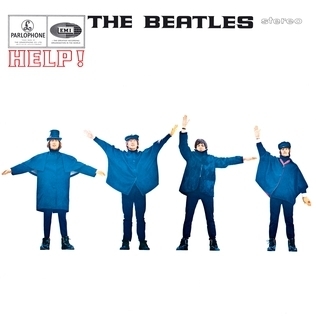 The BHS Class of 2023 will have a fundraiser at Qdoba on Belleville Rd. on Tuesday, Nov. 22, 2022 from 4:00pm - 8:00pm. See the flyer for more information and how to order. The Class of 2023 thanks you.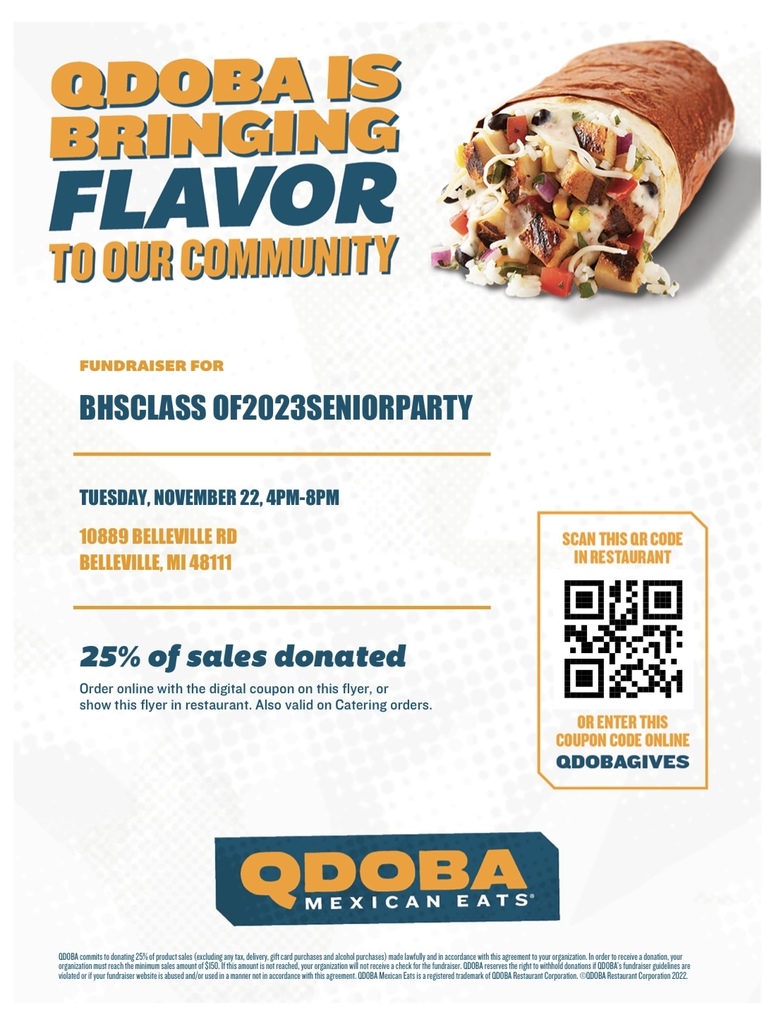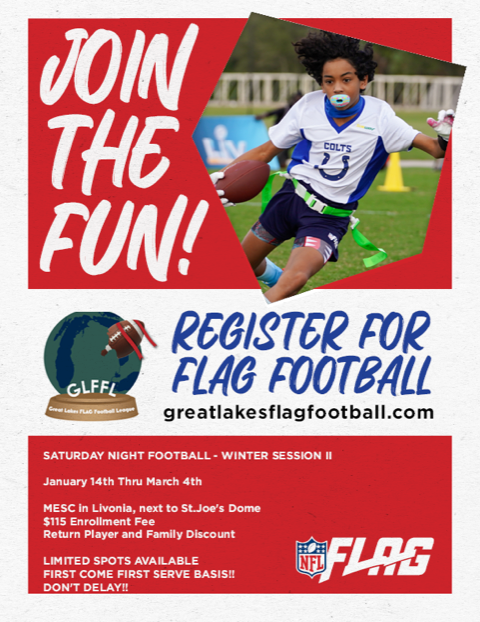 Ms. Smith, an ASD teacher at McBride, recently received a grant for 12 Boogie Board writing tablets. Thank you @MeemicFoundation!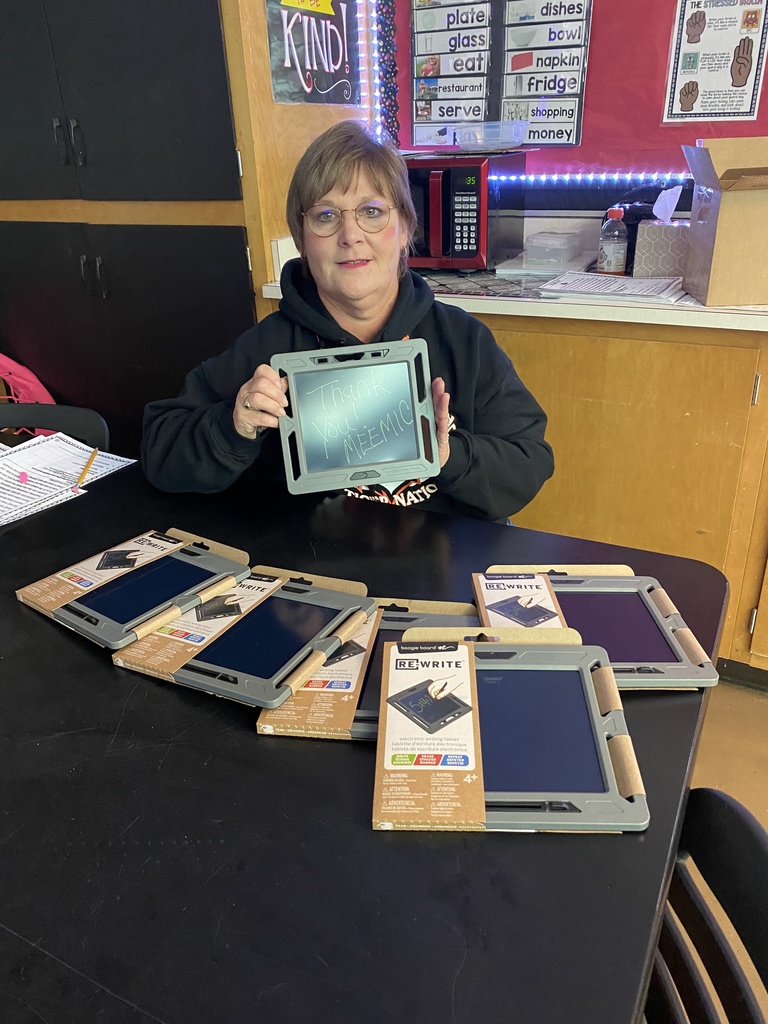 The McBride PTO is selling Cookie Grams! For $5, the student will receive a massive cookie personalized with a message of gratitude. To order, fill out the following form to state who they are sending the cookie to, and what the message should say, and then students can pay cash
. for the cookie during their lunch, 11/14-11/18. Cookies will be delivered to students and staff during 6th hour Nov 22. https://docs.google.com/forms/d/e/1FAIpQLSd6I1TyThebHGgZTAYkozHtmF-HFfD8tt0EC6UC-hbZKuRh5g/viewform

Attention 8th Grade Families, the class is traveling to Washington D.C. this May! Join us Wednesday, November 9th at 6pm in the McBride cafeteria to learn how to register, what we have planned, and more!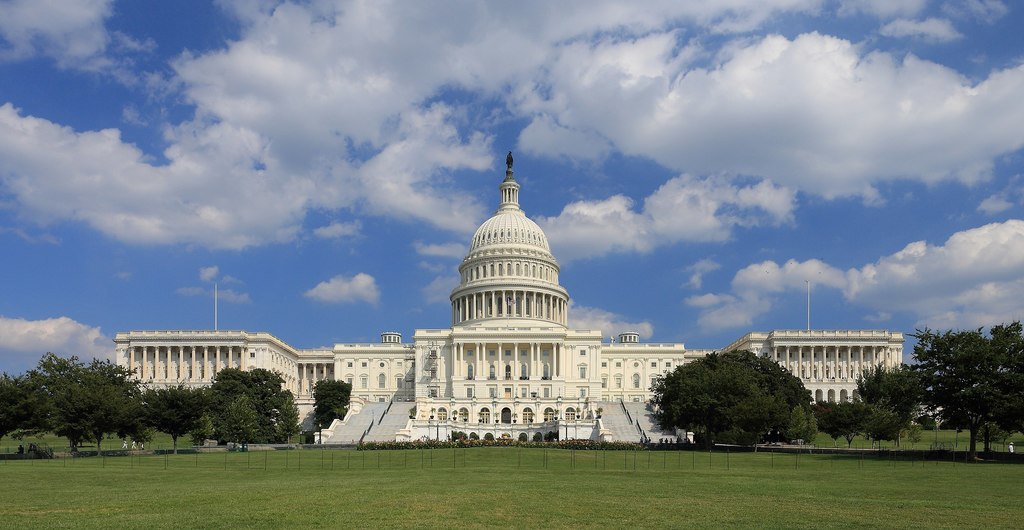 Join us at 4:30pm Tuesday November 1 in the Media Center for a PTO meeting. We'll be discussing fundraising and upcoming student events. The meeting will end promptly at 5:30. Be involved and stay in the know!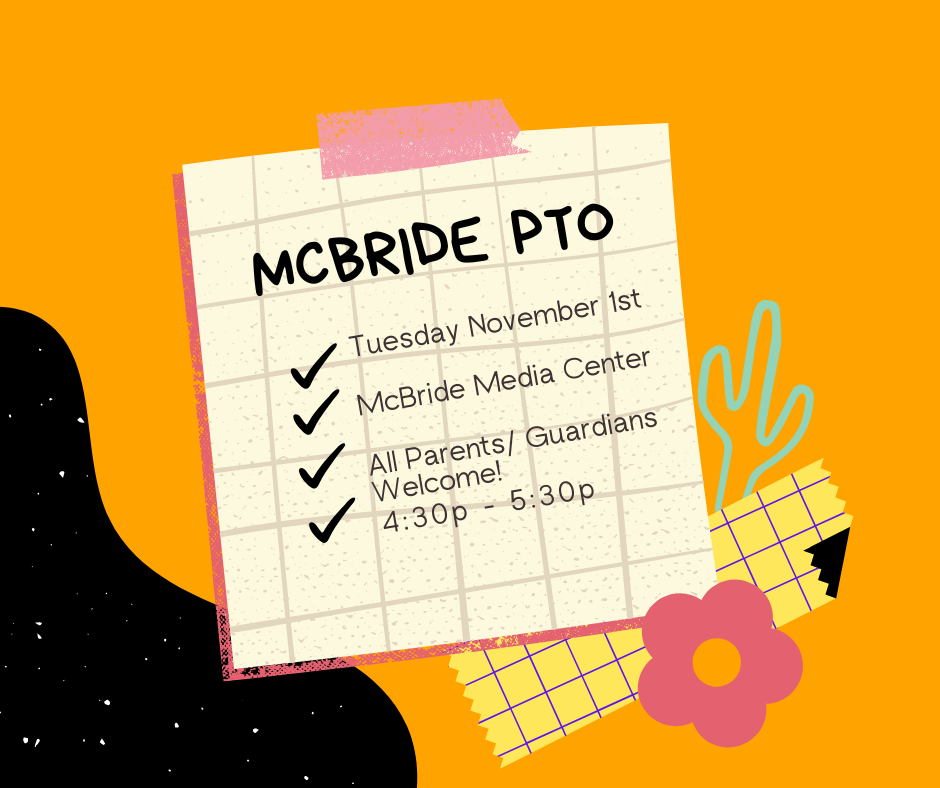 McBride StuCo kids could BEARly be contained as they were decorating the halls today! Can't leave the walls BEAR! 🔥🐻🔥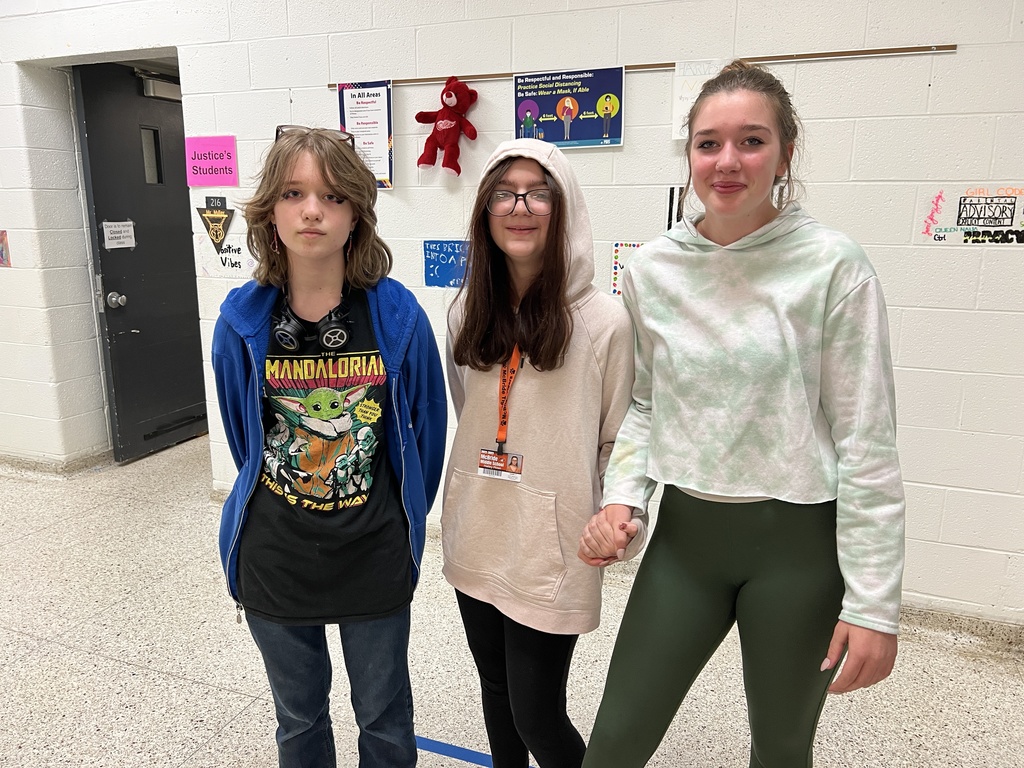 Calling all parents!! We know you've taken tons of great photos at our events. If your student participates in sports or activities at McBride and you've taken photos, please submit your pictures to be considered for the yearbook. Click HERE and use the access code mcbride. Let's fill our 22-23 with lots of great memories! If you're interested in ordering a yearbook for your student, please use this link, Yearbooks are $35 and must be ordered by January 28.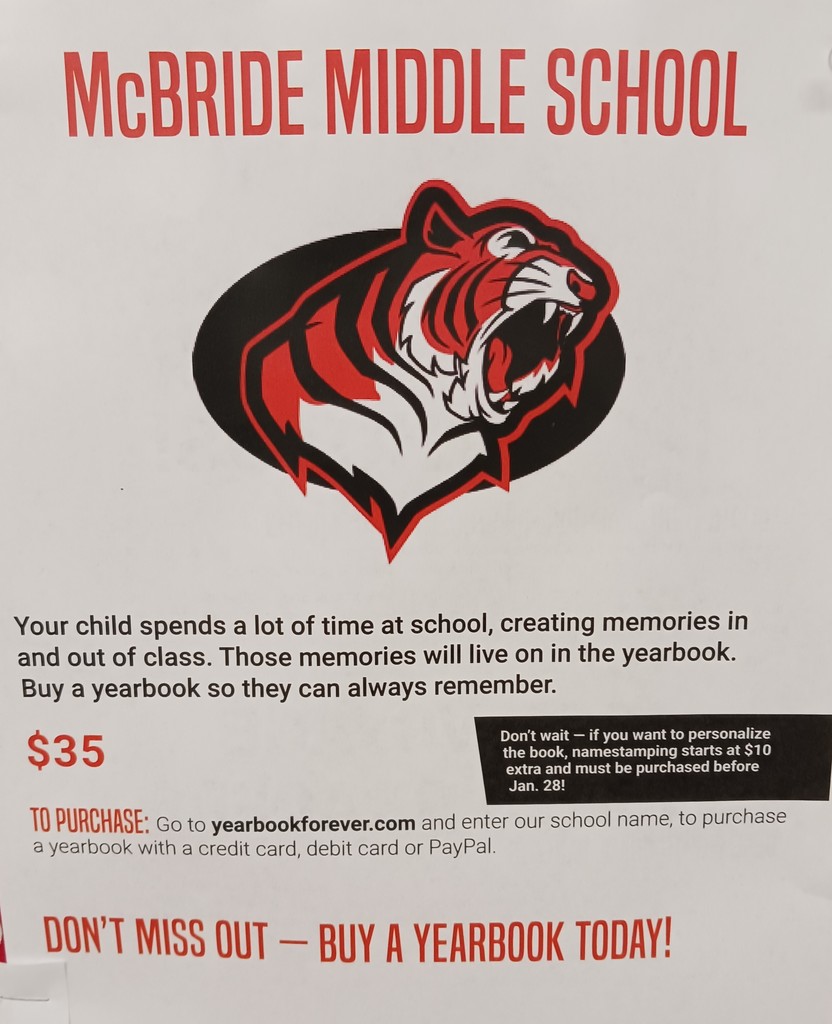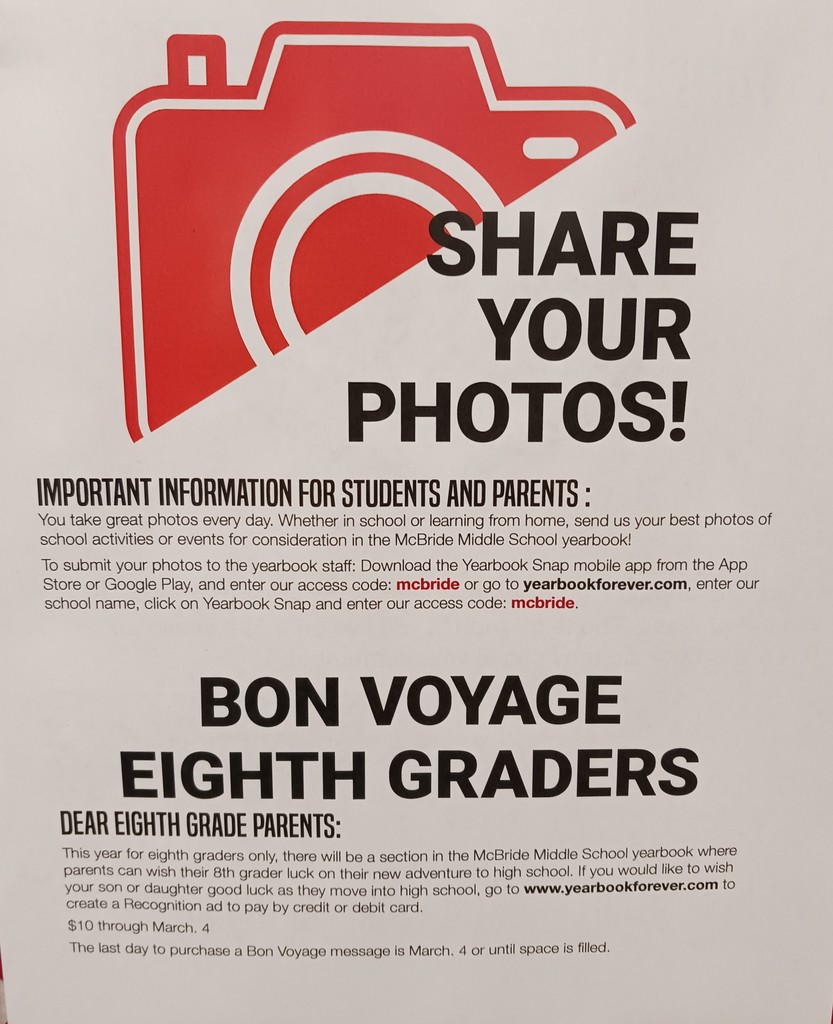 8th Grade Volleyball season ended on a high note, with our Tigers winning their match 2-1 over Adams Middle School. Well done 8th grade girls!! Great day to be a Tiger!! 🐯🖤🧡