Good evening, This is a message to inform you that our Belleville Online School (BOS) will continue for the second semester. In an effort to begin preparations for the second semester, we are asking that parents who wish to make a change for their child, from in-person to BOS or from BOS to in-person, complete one of the surveys listed below. For students who are currently in BOS who wish to be enrolled in person, please complete the form at the following link:
https://www.smore.com/u3eyg
. Please complete this form no later than December 10. For students who are currently in person who wish to be enrolled in BOS, please complete the form at the following link:
https://bit.ly/BOS2ndSem
. Please complete this form no later than January 7. These links will be posted on the district website as well. If you have any questions please reach out to your respective school.


Congrats again on the Football team on their State Championship! Here is a live link for State Champs gear. The store closes this Thursday, December 2nd. Please note the two different shipping options. It is recommended if you are not a staff member or BHS student that you choose the ship to home option. Thank you!
https://belleville-football-2021-state-champs.itemorder.com

We have just been informed that ONLY Gate A & Gate G will be open for Spectators at Ford Field for the Football State Finals.

Congratulations to the Football team as they defeated Sterling Heights Stevenson 40-26 to earn the schools first trip to Ford Field to play for the State Championship. The game will kickoff at 1:09pm on Saturday, November 27. Tickets are sold at the Ford Field ticket gate the day of the game and cost $20 each.

Tickets are now available to be purchased for Saturdays Football SemiFinal matchup vs Sterling Heights Stevenson through GoFan. Here is the link:
https://gofan.co/app/events/445290?schoolId=MI9892
Kickoff is schedule for 1:09pm at Troy Athens High School.

Tickets for the MHSAA Football Regional Playoff game are now able to be purchased at the following link:
https://gofan.co/app/events/425469?schoolId=MI9892
Tickets are only sold through GoFan and not at the gate. You will then redeem your ticket(s) by showing them on your mobile device at the gate. Game time is 1pm on Saturday November 13 vs Dearborn Fordson. Good Luck Tigers!

Belleville Football will play Canton this Friday, 11/5 at Belleville High School for the District Championship. Kickoff is 7pm. Tickets are NOT sold at the gate. You can purchase tickets online at
https://gofan.co/app/events/425408?schoolId=MI9892
and show the ticket(s) on your mobile device at entry. Thank you and GO TIGERS!
McBride Middle School is a proud recipient of the MI HEARTSafe School Award: We are proud to announce that McBride is now designated as a MI HEARTSafe School. A HEARTSafe designation recognizes a school's efforts to prevent sudden cardiac death of the young (SCDY) by preparing for a cardiac emergency. Members of this school community know how to recognize the signs of a sudden cardiac arrest and respond quickly by calling 9-1-1 and using CPR and an automated external defibrillator (AED) until EMS arrives. To read more: about the MI HEARTSafe School Award Program go to :
https://migrc.org/patients-families/mi-heartsafe-schools/mi-heartsafe-school-award-program/
Thank you for your continued support and GO TIGERS!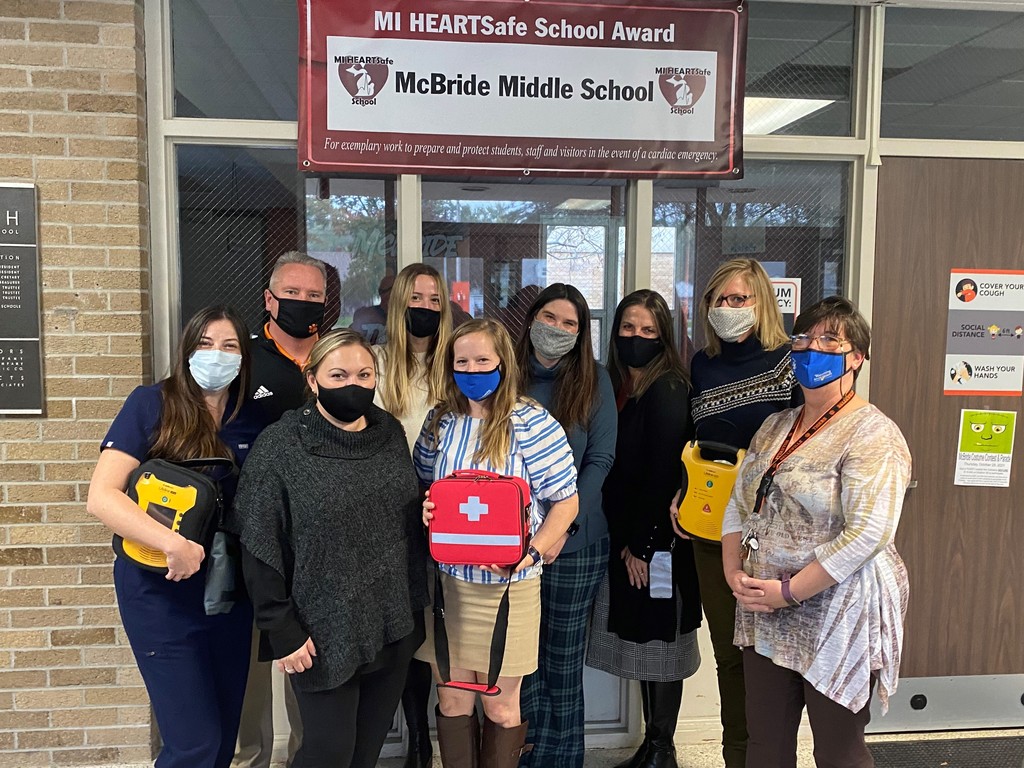 Good evening, Van Buren Public Schools will be holding the Fall 2021 Parent-Teacher Conferences remotely. Owen, Edgemont, Rawsonville, Savage and Tyler Parent-Teacher Conferences will be held Wednesday, November 3 from 5:00 to 8:00 p.m. and Thursday, November 4 from 1:15 - 4:15 p.m. and 5:00 - 8:00 p.m. Conferences will be done through a website called Meet the Teacher. To have a conference with a teacher, you need only to sign up for a slot for your student using vbps.meettheteacher.com . The link to this site will also be posted on the Owen and elementary websites in the bulletin board section. Once you sign in, you will see each of the teachers for each of your students, as well as the ability to manually schedule conference times for your student. On the day of the conferences, you need only sign back into that same website and begin the conferences that will be ready for you. If you need assistance, we have built resources for you into the VBPS Help Center website
https://sites.google.com/vanburenschools.net/vbpshelpcenter/meet-the-teacher
. Additionally, feel free to reach out to Mr. Wilson at
mwilson@vanburenschools.net
if you need additional assistance.

VBPS TRANSPORTATION CHANGES EFFECTIVE OCTOBER 11, 2021 VBPS bus drivers and aides have rebid on bus routes following last week's count day. This means your student may have a new bus driver or bus aide starting Monday, October 11th. We appreciate your patience as drivers adjust to their new routes. Also, in order to make our bus routes more efficient, your student's route number and bus stop times may have changed. Please login to the MiStar Parent Portal to review your student's transportation information. All changes will be effective Monday, October 11th.

Good evening, BHS and McBride Parent-Teacher Conferences will be taking place on October 13 and October 14. Again, all conferences will be held virtually through the Meet the Teacher Platform. Additional information, including sign-up details will be communicated next week.

We want you! ….to check out Volleyball! The HS volleyball teams are running a volleyball clinic from 9am - 12pm on August 28th for all kids grades 3-8. The cost is $25 and includes the clinic and a shirt. We would like participants to preregister, but will also take walk-ins the day of the clinic. We are using this both as a fundraiser and as an opportunity to get more kids excited about volleyball to help grow the district's programs. We are asking you to please share the flyer and registration site with your families -- via social media, email, with your back to school information, etc. I have attached the flyer with registration info. If anyone has questions, you can email Sarah Igonin for more information at
sigonin@vanburenschools.net
Click here to Register:
https://bit.ly/BHSVBClinic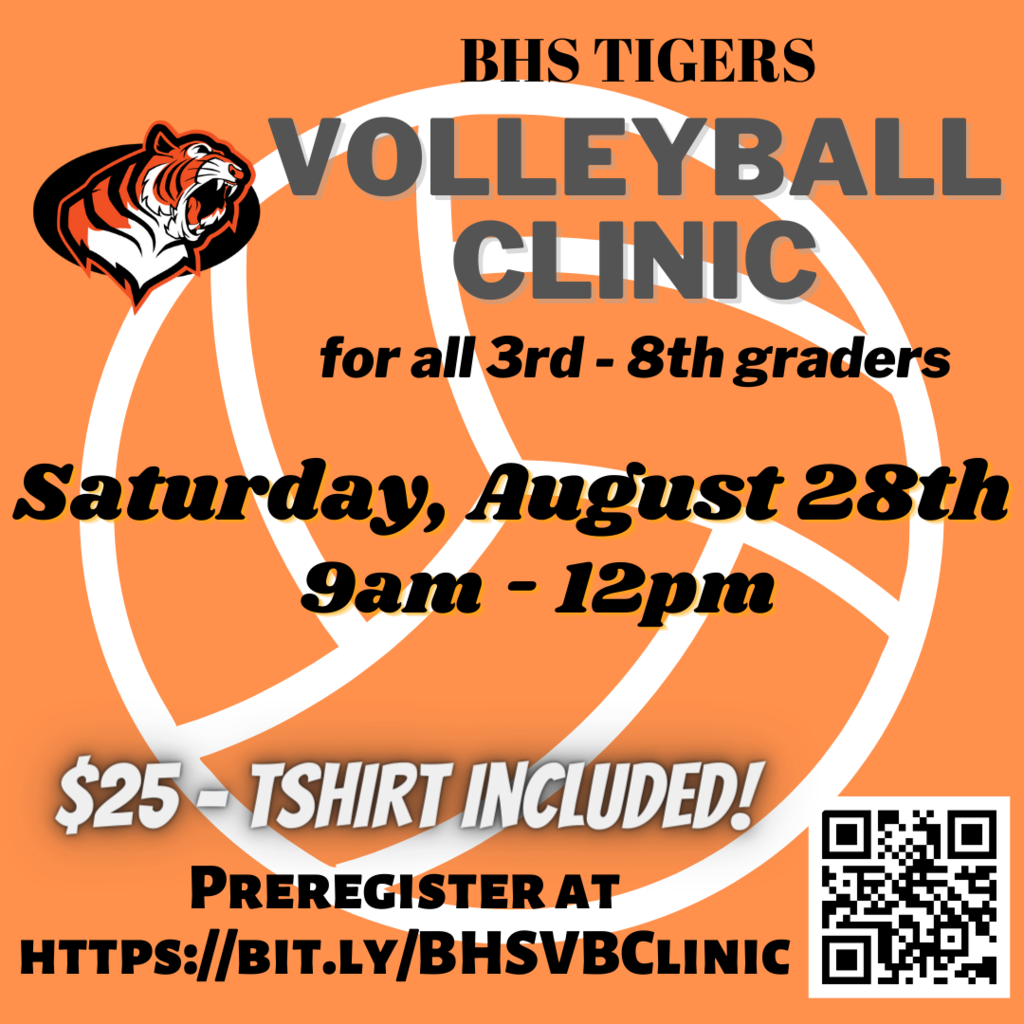 Van Buren Public Schools Transportation is now hiring bus drivers and bus aides for the 2021-22 school year! We offer competitive wages and benefits, paid CDL/ bus aide training. Join our team and train over the summer.  For more information, call the Transportation Office at (734) 699-5100 to schedule an interview.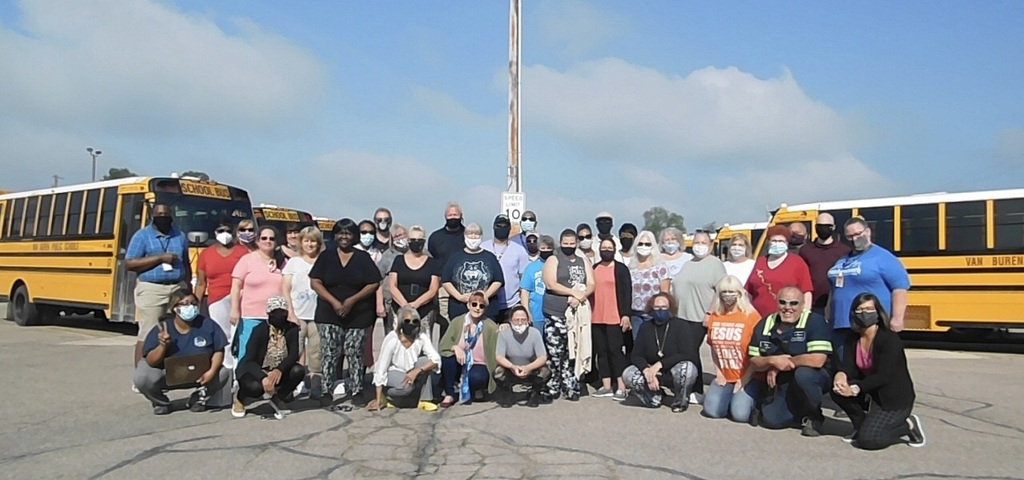 The McBride Middle School First Robotics Team has had a great season. The team is formally known as: First Tech Challenge Team 14670, Tiger Robotics FIRST hosted a virtual competition this season for teams that could not build a robot or compete traditionally due to the pandemic. It is called the FIRST Innovation Challenge. McBride's Team, Tiger Robotics, advanced all the way to the World Finals, being 1st Alternate to the 20 finalist teams chosen, hence coming in 21st! Through the FIRST Innovation Challenge presented by Qualcomm, students in the FIRST Tech Challenge will explore what it means to be an innovator and find solutions to society's greatest challenges that impact the world for generations to come. Through the FIRST GAME CHANGERS themed challenge, participating teams will: 1. Identify a problem or opportunity to help people (or a community of people) keep, regain, or achieve optimum physical and/or mental health and fitness through active play or movement. 2. Design a solution to seize the opportunity or solve the problem. 3. Actualize their innovation by creating a business model and developing a business pitch. 4. Advance their skills by using technology in their solution development process and/or design. Tiger Robotics' Innovation is called "MealHunt". MealHunt is an app, combining the features of pokemon Go and scavenger hunt type apps. The user can set up the game in a local park, neighborhood or backyard. Using landmarks set up by the user, the game will assign an ingredient to healthy food recipes. The goal of the game is for the users to compete and find the ingredients for the recipe in a scavenger hunt format. McBride Team members: Carson Conley Maddison DeLano Tatiana Girard Desmond Reinhard Gretchen Behnke Cooper Mears McBride Coaches: Tim Miller David Girard Congratulations to our McBride Tiger Robotics Team and what an amazing feat they have accomplished.


Good evening from VBPS Transportation, This is a reminder for parents/guardians to complete a Transportation Request Form if your student will need bus transportation for the 2021-22 school year. If you have already completed this form, there is no need to complete one again. The Transportation Request Form MUST be completed no later than June 30, 2021 in order to ensure transportation for your student for the first week of school. Please remember that we are unable to accommodate social distancing on our buses. Click on the link below to review transportation information and complete a Transportation Request Form.
https://www.vanburenschools.net/transportation--92
If you have questions, please email
transport@vanburenschools.net

For anyone interested in attending the Boys and Girls MHSAA Regional Track & Field Meet on Friday, May 21 hosted at Saline High School, please use the following link to purchase tickets (they will not be sold at the gate):
https://gofan.co/app/events/316503

Van Buren Families... Are you hungry? Sick of cooking? Well take a night off and order some pizza from Hungry Howie's in Belleville on May 11th ALL DAY LONG. Mention Owen Intermediate when ordering and a portion of the proceeds will be donated to our student activity fund. Order online at
www.hungryhowies.com
or by phone at 734-697-4545. Thank you for your continued support. Now go eat pizza!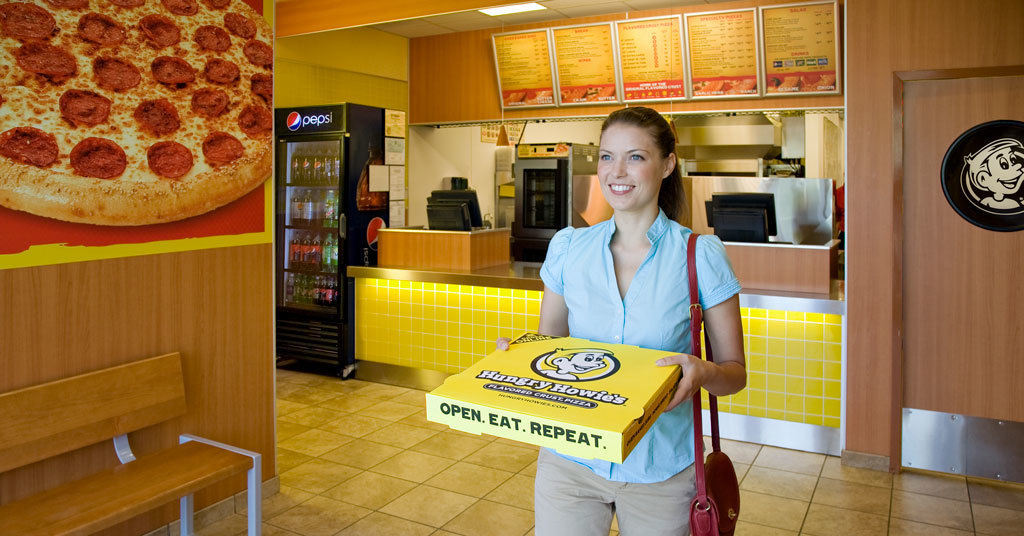 Great start to the day at McBride!