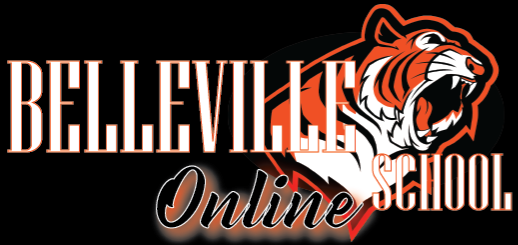 Belleville Online School (BOS) Program is Van Buren Public School's 100% Seat-Time Waiver Program open to secondary education students. We offer students access to alternative learning options and those seeking the opportunity to continue working on a high school diploma without physically attending the school facility. The BOS program has flexible learning hours and a supportive "Learning Lab" environment for students who want to come to the building for additional support.
BOS application form is available HERE.
We are a learner-centered, student-focused school that offers the following:
● 100% Seat Time Waiver Program
● Virtual Learning with required contacts with the teacher per week
● Flexible Lab Hours during the week for students who work
● Opportunity for credit recovery and accelerated course options (up to 1.5 credits)
● High School Graduates receive a Van Buren Public Schools District diploma
Students who desire to participate in online learning classes must be recommended by the school counselor and approved by the school principal. Transfer students who have participated in a virtual course prior to enrolling in a Van Buren Public Schools District must provide an official transcript to the school counselor.
The following are some characteristics students should have to be successful online:
● Time management skills and discipline to complete projects by deadlines
● Time to devote a minimum of 5 hours/week to a one-credit course
● Consistent access to a reliable computer and high-speed internet
Virtual Learning Program Goals
● Increase the graduation rate and reduce the number of dropouts
● Increase the completion rate for students participating in Credit Recovery and/or Initial Credit
● Improve academic support for students who cannot physically attend high school who are in an alternative setting or off-site
Frequently Asked Questions found HERE