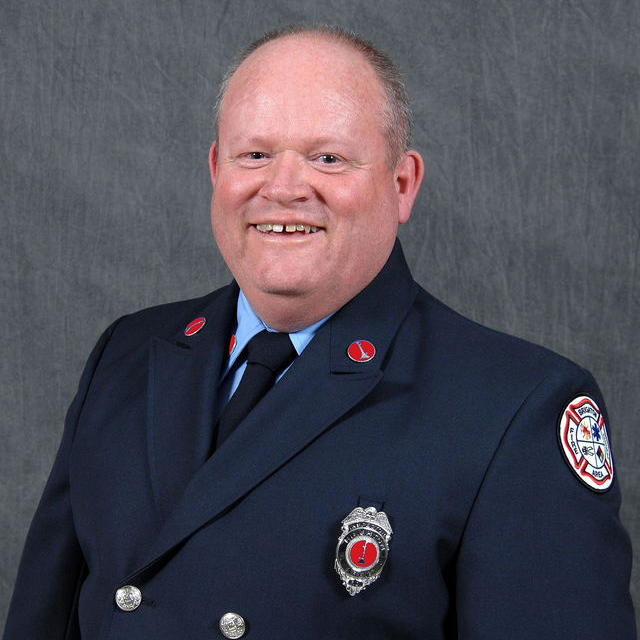 WILLIAM GAGE
CLASS OF 1978
William G. Gage, Jr., is honored as a distinguished graduate in the field of community service and protection.
William (Bill) Gage, Jr., graduated from Belleville High School in 1978. As a student, Bill was a member of the BHS Band Program and performed with the symphony, marching, and jazz bands. He also participated in cross country and was a member of the National Honor Society.
Bill graduated from the University of Michigan with a Bachelor's Degree in Psychology and Sociology in 1983. While studying at U of M, he was a trumpet player for the marching band and, after graduation, for the alumni band. He graduated from the Eastern Michigan University School of Fire Staff and Command in 2010.
Bill Gage served both the Van Buren Fire Department (Lieutenant) and the Brighton Area Fire Authority (Captain and Inspector). Bill served as an emergency dispatcher and in the Police Reserves. He had previously worked as a teacher, soccer coach for the Van Buren Soccer Association, member of the MIS fire crew, owner of a Ziebart franchise, and manager for Atchinson Ford.
As a leader and mentor, Bill served his community in many ways, but he most enjoyed giving his time to young people. By listening, advising, and leading by example, he helped many secure stronger futures. He was a member, and served as President, of the Belleville Lions Club and was the treasurer of the Van Buren Soccer Association. He taught fire safety in the local schools. He was honored as Fire Inspector of the Year in 2010.
Bill shared his life with his wife and best friend, Tamara, and their two sons, Adam and Aaron. Bill Gage passed away on January 13, 2011. As a model of honor, compassion, and service, he touched many lives.
In his final words to his wife: I have lived a full life. I have done many things and enjoyed life. Please tell everyone to celebrate my life and to not be sad. We will all meet in heaven again. I just had to go earlier and prepare a place for us.