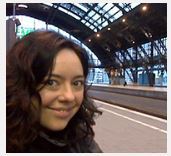 DR. LEILAH BLAKENEY LYONS (TOTH)
CLASS OF 1994
Dr. Leilah Blakeney Lyons, Class of 1994 is being awarded the honor of Distinguished Graduate for her achievement in Computer Science, Learning Science, and Museum Sciences.
In 1994, Belleville High School presented Ms. Leilah Toth as the 1994 Valedictorian and a National Merit Scholar. This event was foreshadowed by her interview as a kindergartner in the Gifted and Talented Program in 1982. Even as a young person, the remarkably bright and self-possessed Dr. Leilah Lyons represented the very best that BHS had to offer and a shining example of academic skill and determination.
After high school, Dr. Lyons attended the University of Michigan and obtained a Bachelor's, Master's and Doctoral degrees, as well as a certificate in Museum Studies. She took a joint appointment as Assistant Professor or both Computer Science and the Learning Sciences at the University of Illinois-Chicago. She has also served as the Director of Digital Learning at the New York Hall of Science in Queens, NY. Her scientific research has been repeatedly funded by the National Science Foundation.
Dr. Lyons is a noted lecturer and researcher; examples of which abound in print and digital formats. Perhaps her most well-known work is a permanent exhibit at the Brookfield Zoo titled "A Mile in My Paws," which is specially designed to teach participants about climate change via "embodied interaction." Dr. Lyons presents this challenge and others like it in continuing efforts to manifest change in the global environment.
Dr. Leilah Blakeney Lyons has contributed greatly to the scientific community and global efforts in climate change awareness and responsibility with an extremely vibrant and prolific academic career.