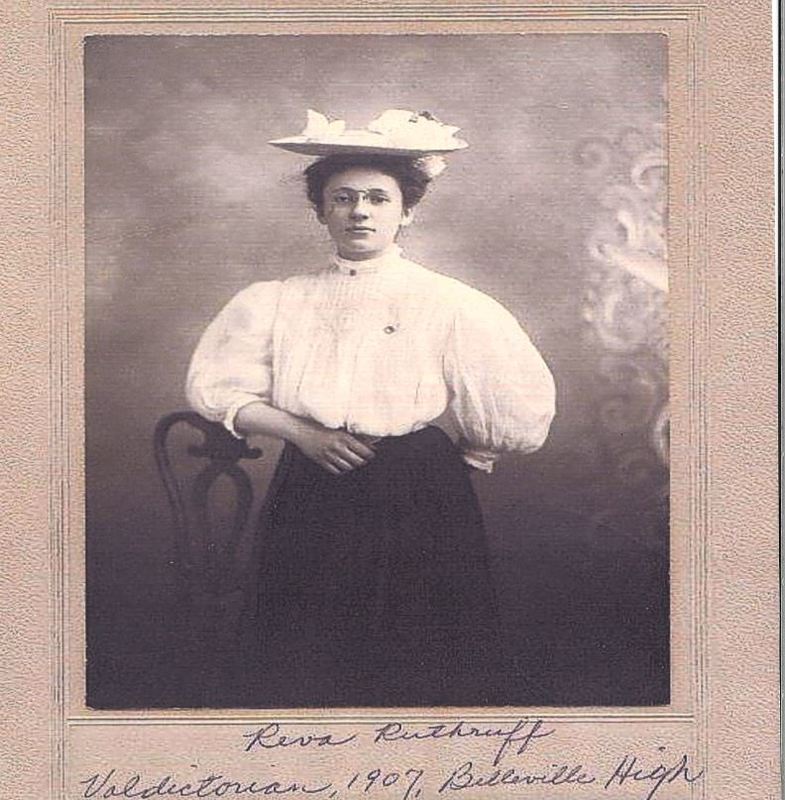 REVA FISCHER (RUTHRUFF)
Class of 1907
Reva Ruthruff is receiving the honor of Distinguished Graduate of Belleville High School for her personal journals that document the lifestyle and activities of Belleville residents in the early 1900s.
Reva Ruthruff was born on January 20, 1889 in Belleville, Michigan. She was the great-grandchild of Abraham Soop and Maria Spawn, who settled in the Belleville-Rawsonville area in approximately 1838. Her parents were Myra Soop and Lewis Ruthruff. Reva grew up in Belleville in a house on Fourth Street, approximately where the Belleville Library parking lot exists today. Her parents operated a bakery out of the home.
Reva attended Belleville Schools, where she was an excellent student and an accomplished pianist. She was valedictorian of the Belleville High School Class of 1907.
In 1902 at the age of twelve, Reva began writing a diary. On her thirteenth birthday on January 20, she wrote, " Fine Day – My birthday today. I am 13 yrs. old. Dolly gave me fifty cents for a birthday present. Went to school. Milly Jacklin sang a solo, 'The Last Words of McKinley,' in the morning."
Reva's diary contains a fascinating historical account about daily life and runs from 1902 until about 1906. She talks about cutting ice on the river, skating on the river flats, flowering in Quirk's woods, and her day-to -day activities in the village of Belleville. She mentions names and families that we recognize even today, and gives a unique and refreshing perspective of village and school life from the viewpoint of a teenager in the early 1900s. First mention of her teacher, Mr. Fred C. Fischer was in 1905, and she often wrote about how he visited her house so she could accompany him on the piano as he played the mandolin. Some early comments about Mr. Fischer were not particularly flattering, but his name popped up more frequently as the years passed. It all ended well in 1908 when they were married -- a year after graduation, and to a bit of a scandal as she was 19 and he was 29 -- and he also was her former teacher!
Young Reva probably did not understand that while she wrote in her simple journals, she was creating a priceless historical document that detailed the lifestyle and activities of Belleville residents during that long-ago era. Most of the entries are in pencil and have faded, which required careful scrutiny with a magnifying glass and strong light to decipher and transcribe. The diary ended in 1906. If there were more entries, sadly they've been lost.
Reva Ruthruff Fischer and Fred C. Fischer built a home on South Liberty Street, and had four children, Muriel Fischer Boelter, Ruelle Fischer Dominick, Deal F. Fischer, and Nola Patricia (Patsy) Fischer Dodge, all of whom graduated from Belleville High School. Reva Ruthruff Fischer died in 1968 at the age of 79.